INDUSTRY TRENDS
Written by: Jeremy Ousley, PE A new building can be very exciting. It's the gathering place where all the action happens. It's the place where people come to be healed, taught, entertained or wined and dined. The building is often viewed as a functional work of art taking on the shape, tone and color defined…
The Benefits of Collaborative Site Design
June 12, 2020 | WRITTEN BY: Environmental Design Group
Written by: Jeremy Ousley, PE
A new building can be very exciting. It's the gathering place where all the action happens. It's the place where people come to be healed, taught, entertained or wined and dined. The building is often viewed as a functional work of art taking on the shape, tone and color defined by the creative mind of the architect. Oftentimes, the site connected to that building isn't viewed quite as romantically. It's utilitarian – a parking lot and sidewalk meant to provide access to the main event. It's the unseen, underground infrastructure necessary to make the building functional. It's a pipe and a catch basin, a sewer, a water line and maybe a stormwater basin tucked away in a forgotten corner. Even the landscaping is often viewed as a utilitarian necessity required by code to dress up the otherwise ordinary, and all too familiar, site. "Just shrub it up with some mulch to save cost" is a phrase often heard by a landscape architect in the development world.
Over the years, the role of site consultants (civil engineers and landscape architects) in the world of new development could almost be categorized as peripheral, something necessary but not exciting, even a commodity in the eyes of most. In recent years, however, we have begun to see a paradigm shift in these roles and how site consultants can provide tremendous value to a project beyond simply making it functional. Using a collaborative design approach in the early design stages, civil engineers and landscape architects can provide tremendous value not only in their technical knowledge but also in their creativity. Let's take a brief look at some of the benefits civil engineers and landscape architects can add when involved in a collaborative design approach.
The Importance of Placemaking
A primary benefit of collaborating early with a site consultant is establishing the site layout. Site consultants are experts in analyzing site topography, vegetation and adjacent land use, assessing municipal zoning code and restrictions and looking at potential ecological restrictions.
It's also valuable to take a realistic look at stormwater as early as possible. With stricter stormwater regulations developing constantly, it's no longer enough to simply designate an unwanted corner of the site for detention. Identifying potential costly site conditions early in the design process and collectively coming up with effective solutions can save a tremendous amount of time and money in the schematic phase of the project. Oftentimes, this process can be the venue for creative solutions that enhance the site.
Another benefit to collaborative placemaking is establishing adequate circulation and separation of vehicles throughout the site. An early understanding of the facility's uses, building egress points and access to the surrounding public streets allows for a more efficient design of both vehicular and pedestrian circulation through the site and how those circulation patterns respond to the need to connect to adjacent land uses and communities. This may not seem critically important at first, but for a medical facility where people are under stress, or a campus with multiple facilities with restricted parking it becomes very important to provide safe and intuitive circulation through the site.
Making a Great First Impression
First impressions are important. It's been said that people form opinions of others in only the first few moments of meeting them. In many ways, this carries over into facilities, with the site making a crucial first impression. A bad experience finding your way through campus or a circulation route that makes you feel unsafe or uncomfortable can go a long way in forming your opinion of that facility overall.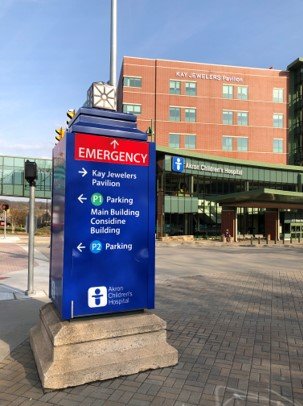 One of the best ways to make that first impression is designing for visitor convenience, most importantly including effective wayfinding signage. This means providing clear, uncluttered signage with easy-to-read text at all decision points on the site. Where a poorly marked site can feel chaotic, clunky and frustrating, incorporating a thorough wayfinding plan can draw people into the site and bring them safely to exactly where they need to be. Other ways to enhance the visitor experience are orienting parking lot drive aisles toward the facility entrance, providing separate pedestrian walkways throughout the site and providing adequate lighting for nighttime access. These simple measures provide a sense of security and comfort to visitors, which reduces the stress level of accessing the facility.
Another way to make a good first impression is to create a welcoming environment. A focus on the facility's main entrance with decorative pavements or a concentration of landscaping can make the facility feel like a place where people are comfortable entering. If the budget is an issue for landscaping, it's often best to concentrate plantings near the entrance where it has the greatest impact to the visitor's experience, as opposed to scattering it throughout the parking lot. All of this can be combined with an architectural canopy to create a beacon for the facility that welcomes guests and makes a good first impression.
Connecting the Indoors with the Outdoors
Too often, there seems to be a disconnect between the site and the building. Studies have shown that being outside is vitally important to peoples' health. The sight of a blooming flower, the sound of singing birds or the scent of fresh air all work to reduce stress and can provide a positive distraction from negative experiences. Simply put, being outside makes us feel better.
There are many ways that a site can be enhanced to work better with the building in creating this positive experience. Creating parklike alcoves near the facility entrances is a great way to expand the exterior space and incorporate it with the activity inside. These areas can be places of rest and reflection for medical or religious facilities, places of outdoor learning for educational facilities or places of gathering for dining or entertainment destinations.
Consider taking a look at the views from within. It can be very comforting to look out a window and see nature. Creating a beautiful landscape or bringing nature to the window with something like a butterfly garden can add tremendous value to the atmosphere indoors as well as outdoors. Another option might be creating a way to transform that utilitarian stormwater detention pond into an aesthetically pleasing water feature that adds value to the site as opposed to being hidden in the corner.
Site designers can also look at mimicking the indoor flooring pattern on an exterior hardscape. It might seem odd for a site designer to ask an interior designer for a floor or tile sample, but this is a great way to create a hard surface area that breaks down the barrier between outdoors and indoors to create a seamless transition between the two.
Connecting the outdoors with the indoors is a great way to maximize the value of a site and create a place where visitors feel welcome, safe and calm. If done creatively and collaboratively with the client and the design team, this not only adds value to the facility but can be done cost-effectively as well. Now that we've discussed some of the real-life benefits of collaborative design, stay tuned for our next article on practical ways of executing collaborative design!
RELATED TAGS:
[xyz-ips snippet="comment-form"]